Super Fast, Accurate and Integrated

Touchscreen graphical PLS setting
4096 bit/rev., 0.1 deg. 30 uSec Scan
Absolute Position with Max, RPM of 3600
67F-248F, NEMA 4, Explosion Proof Resolver
Ratio Converter for Resolver 2500 ft. away
Leading/Trailing Edge Speed Compensation
Flash Module for User Programs
Built-in Productivity Monitor
TouchPLSTM on Ethernet
The TouchPLS
A new Frontier
AVG Autotech, the Company that invented the first microprocessor based Programmable Limit Switch back in 1975, is introducing yet another revolutionary concept in PLS technology, a PLS with a Graphical Touch Screen. You no longer have to contend with LED's, keypads and tens of codes to remember. The TouchPLS depicts your machine settings and status pictorially. Programming and fine-tuning the PLS settings is graphical and visual in a Windows type of environment.
The TouchPLS retains all the advanced PLS features that have been the hallmark of Autotech that has made it the market leader in PLS's:
Highest processing speed, an incredible 26 microsecond response time for processing 12 bit resolution 256 set points, that includes all the over head for Speed Compensation. Without Speed compensation, the TouchPLS can respond in nanoseconds.

Highest Processing Power per cubic inch, 16 channel PLS, Touchscreen interface, communication to PLC networks, Ethernet connectivity, 256 color LCD, Productivity monitor, Alarm monitor, and even a graphical touchscreen interface for the PLC itself, all built in a compact package.

Simplest Human Interface with graphical cam settings that can be fine tuned in motion.

Highest immunity to a hostile environment. Resolver can operate from –67 degrees F to over 248 degrees F, under water, outdoors in Alaska or the Mohavi desert, 2500 ft away from the PLS. We even have an explosion proof resolver. The TouchPLS just like all other Autotech PLS's has a built-in broken wire detector to make sure that the Resolver is properly connected. The Resolver to PLS wiring has the patented short circuit proof design. Autotech Resolver is practically indestructible except for normal wear and tear.

Incredible Integration and Connectivity to control networks!
The TouchPLS has total communication with any control network. Resolver position, PLS settings, input/output status, can be transmited to or from the PLC network. Ths speed of communcation is limited only by the limitation of the control network configuration.
Incredibly Simple to Program and Operate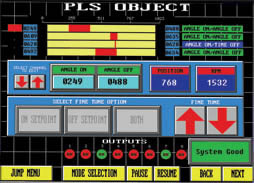 When Autotech invented the original PLS in 1975, Model M1000, it had an Intel 4 bit microprocessor P4040, a keyboard and a strip-chart that could be inked by the user to pictorially represent the PLS or cam settings. Of course, you had to save that chart in order to remember what those settings were. Since that time, Autotech and many other competitors have introduced many different types of PLS's. Some are quite cumbersome to program with more that a dozen codes to remember and some have a fairly simple keyboard like Autotech's M1050 PLS. But the TouchPLS elevates the simplicity of programming to an altogether different level. The machine position, speed and output status is represented on a Touchscreen Graphical display. The PLS settings are displayed in a strip-chart format and can be fine-tuned in motion, with simple arrows.
Advanced Features ...
The TouchPLS has the latest programming features such as:

Unlimited number of programs, on board as well as down loadable from PLC, or PC over Ethernet.

Leading or Trailing Edge speed compensation in milliseconds.

Angle On/ Time Off programming.

Pulse Programming.

Four ModZ functions to rezero position upon external input.

Brake wear monitor functionality for Press applications (Optional).

Absolute positioning, PLS knows true machine position even when shaft moves after power loss.