PMD 300 Series Master Message Display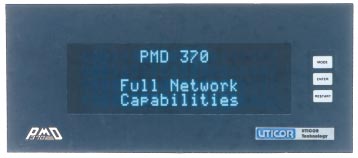 The PMD 300 Series Programmable Message Display is designed to give you fast, accurate information when you need it most. The units give you maximum flexibility with minimum complexity. Because the PMD 300 Series is so flexible, it is used in a
wide-variety of applications. And, since machinery, processes, and electronic equipment vary from application to application, there are numerous ways to enter information into and extract information from your PMD 300 Series unit.
The PMD 300 Series products provide information from your controlled process or automated operation. Simple ON/OFF signals from your PLC enable a PMD 300 to translate current conditions into plain language by selecting a preprogrammed message. Message information may be displayed on the PMD 300's alphanumeric display, sent to an on-line printer, stored in the PMD 300's data log, and/or sent to and displayed on slave message displays; such as: PMD 180S, PMD 200S, PMD 300S, slave marquee displays, such as the PMD 1100, PMD 1200, PMD 1205, or numeric marquees PMD 1404 and PMD 1406.
These products feature chaining, blinking, scrolling, printing, and centering messages. Hardware features include data logging, 115 chained-message queuing with prioritization capability, and the ability to program messages in U.S., English, Swedish, French, Danish, German, Cyrillic, and Japanese Kana international character sets.
Any ASCII terminal, PLC with an ASCII module, or personal computer with an RS-232C port can be used to program a PMD message display. Custom program development software (DOS-only, Part Number 10F50) provides the menus, prompts, and help screens that make message entry and editing easy... You can program your displays, online, off line, or while residing in a network. And, the message simulation feature lets you see your message, as it will appear on the 300 series display.
Features
4 lines x 20 characters per line display

Large 0.492" (12.5 mm) Character size, visible from 25 ft. (7.62 m)

Advanced Features
Stores approximately 175 80-character messages per 16K of EEPROM memory

Internal data logger has battery-backed RAM for internal storage of over 3,000 messages

Scroll, chain, blink, print, log, & center messages

115/230 VAC (standard), 24 VDC (optional)

UL Listed

CSA Certified

FM Division I, Class 2, Groups A, B, C, D

Front Panel: NEMA 12